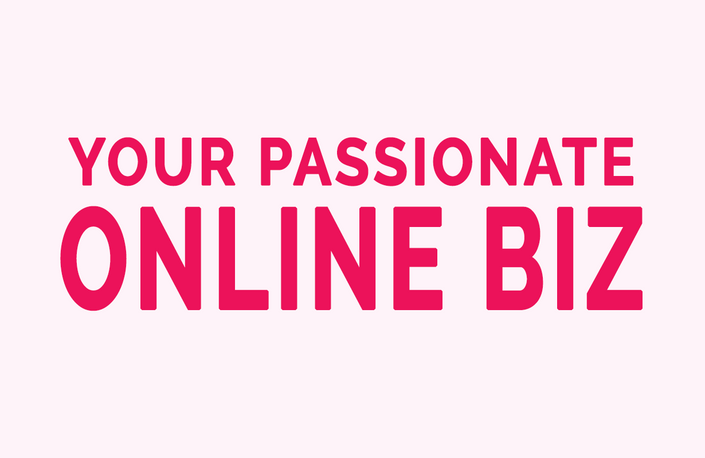 Your Passionate Online Biz
Build a successful online business from scratch and make your first $2K in 90 days or less with Brie Beeks
Enroll in Course
What if you woke up tomorrow morning to find out that your bank account grew while you were sleeping?
Nope, you wouldn't have to rush out of bed.
Nope, you wouldn't have to make a mad dash through your house to get out the door.
Nope, you wouldn't have to sit through an extra half-hour of bumper-to-bumper traffic to get to the office.
Instead, you'd simply roll out of bed, put on a pot of coffee, eat your breakfast and do your morning workout. To get to work, all you'd have to do is flip open your laptop. And best of all, you'd be doing it all on your own time!


Your days don't have to be frustrating, stressful, or draining.
Say goodbye to endless workdays filled with trial and error. It's time to create a highly profitable product and set up automation in your online business for time and financial freedom.
If you've felt like you've fallen in the same category as the typical stressed, rushed, middle-class woman, no more! You're going to feel like the next Sophia Amoruso - powerful, confident and financially free.
If you're not feeling the ease and flow that comes with growing an online empire, you might be doing things the hard way.
Starting your own business isn't supposed to be hard, painful, or mysterious!
What if I told you that in just 90 days you could...
Create a profitable premium program that earns you your first $2K in sales?
Create a promotion plan that upscales your monthly revenue from $2K to $5K-$10K months?
Design and create digital training products that rock and make you a serious passive income?
Create an email list full of your ideal clients (because your list is totally your gold mine)?
In my step by step course, Your Passionate Online Biz, you will learn how to create an Online Course and A Paid Webinar Training Series (tech training and curriculum guidance), how to grow your email list like crazy, and how to promote your products to maximize sales every single month. My business took off last year after I was able to bring in my first $4K from a digital training product within 30 days of creating it!
The best part of this little story? I started automating my systems, altering my strategies, and making different types of digital products for multiple streams of income. Time and financial freedom were on the horizon. It took me an entire year of trial and error... major headache. I'm here to walk you through the entire creation process and the promotion-to-profit process in just 90 days.
Working with Brie has been a dream! I started seeing results way quicker than I imagined. She's not messing around when she says she's here to save you time. I made 4x my goal income in the first month. Plus, under her guidance, I've landed HUGE clients.

When I came into the world of building my own business I had no idea what to do, what to use, or how to even begin. She provided invaluable direction and instruction on everything from the best website platforms and technology to use to how to approach my clients in sticky situations. She advised and led me through every step - I seriously wouldn't be where I am today without her!

Brie is the best thing to happen to my business. Period. I wouldn't be where I am today without her confidence, experience, guidance and inspiration. She can take one look at your business - or even just the idea of a business - and know exactly what steps you need to take to accomplish well beyond your goals. She's a life and time saver. You owe it to yourself and your business to work privately with Brie, she'll get you to your income and time freedom goals in no time...my only regret is not coming to her earlier.
Meet Jordan!
"Brie helped my co-owner and I resolve our biggest struggle - getting started! Having her walk us through the entire process of business building, advising us on which software and systems to use, and really walking us through our website creation and social media plan were some of the most valuable benefits we received from her. She inspired us to kick start our online business, The Farmhouse Boutique and provided us with all of the necessary tools to do so. She helped us build our online business owner lifestyle, now we simply get to live in it!"
Your Passionate Online Biz gives you all of my tech training to create highly profitable digital products, my very best promotion strategies, and my proven strategies to grow your email list fast. I don't stop there. We have training to help you set up your sales page to maximize sales and over $1000 worth of bonuses just to make sure that you succeed in a timely manner. Creating time and financial freedom was my goal. Now, helping you create it too is my purpose. We want both right?! #goaldigger.
Are you just starting out? Look how I grew my email list (full of my ideal clients) in just 4 weeks!
Hi! I'm Brie Beeks, the founder of Blissful Bosses. I help people create time and financial freedom for themselves by growing a highly profitable online business. I believe that digital products are the BEST business model because the income can be very passive, hints time freedom. I walk others through the creation process and then the promotion process to optimize exposure + PROFIT. My purpose is to help you be relieved of financial stress, pursue your exciting passion daily, and experience time freedom. Our time together won't be easy but it'll be worth it. Lots to do. So, let's get to work!

Here's how we're going to make it happen:
(6 video modules + bonus modules)
MODULE 1: PROFITABLE PRODUCTS AND SERVICES
Gain clarity and pick your business idea,
Start creating your curriculum and work on lesson planning,
Set your revenue goals and let's talk numbers,

Choose which avenue of profit to start out with.
MODULE 2: PRODUCT CREATION - Online Courses
Create your curriculum
Create a high-quality PDF training guide with a beautiful cover
Create a high-quality online course
MODULE 3: PRODUCT CREATION - Creating and executing a paid webinar training series
Create a highly profitable webinar training series - webinar tech training
Webinar workshop email funnels
Curriculum anatomy
MODULE 4: GROW YOUR EMAIL LIST
Woo & attract your ideal clients,
Run profitable online challenges,
Create an irresistible freebie or lead magnet,
Entice dream clients to join your tribe by rocking it with webinars or adding content upgrades to your blog.
MODULE 5: PROMOTE YOUR PRODUCT
Master Social Media Marketing,

Create strategic business social media accounts including Pinterest, Twitter, Instagram, Facebook Groups.
Get profitable using these platforms and webinars
Master affiliate marketing including a solid pitch to potential joint venture partners.
Want Bonuses?? Like I said I'm here to watch you succeed so here's the hook up...
Bonus 1 - One live group coaching call with ME! - We'll schedule this for AFTER you've had time to dig into the modules and start implementing. I want you to get all of your questions answered! ($250 value)
Bonus 2 - My webinar vault filled with past training (all future trainings will also be added as well)! Your money-making and profit-building won't stop with the Passionate Online Biz course. You'll get tons of additional value every single time I put new content in my vault! ($300++ value)
Bonus 3 - #PinProfitChallenge E-book, by Summer Tannhauser - Does Pinterest seem like a deep dark (albeit fun) hole that doesn't bring in profits? Well, I know for sure that you can make money using Pinterest, and my friend Summer will show you exactly how to leverage the power of Pinterest for your biz! ($99 value)
Bonus 4 - Build Your Website In Squarespace with Kaitlyn Kessler - I want you to be able to truly build your business from the ground up, without being overwhelmed or struggling with tech. You'll be able to get your website up (easily) with guidance from Kaitlyn in this awesome bonus! ($350 value)
Meet Melissa!
"Brie's training is super personable and informative! She not only provided me with valuable content to help me grow my business but encouraged me often to use my own voice to set myself apart."

You have two choices...
You can keep hustling hard for months and months trying to figure everything out on your own - remaining in financial stress. I was there once, you can totally do this on your own if you don't mind the constant lack of time freedom and waiting for results. .... Or you can take my step by step training that will take out all of the guess work, all of the trial and error, and you can take my proven strategies to towwwnn.
Wanna know if your passionate online biz is for you?
You're ready to rock it with your passionate online biz if:
You are committed to being your own boss and you are willing to put in the work to get yourself out of your current frustrated status
You are ready to create a passive income by creating digital products
You want to learn how to grow your email list to have your ideal clients on speed dial
You want to create a highly profitable promotion plan that generates consistent sales
You know that success is earned and you're ready to do something about your status quo
You want to pursue your passions and do more of what you love on the daily
Your passionate online biz might not be for you if:
You lack ambition and self-discipline
You aren't sure if you really want to be your own boss
You want to get rich quick without working
You are fine continuing to live on someone else's clock, rushing, stressing, and doing passionless work
Enrollment closes April 21st, so be sure to take action before that happens!
Do you want to continue to wonder how well off you'd be - financially, with more time freedom - and how far and wide your name would have spread by now if you would have pursued your dream sooner?
Or do you want to know what it's like to create something you're passionate about, that genuinely helps your audience, and that brings in a $5K consistent monthly income?
IT'S TIME TO PUT YOUR SKILLS AND EXPERTISE TO USE FOR YOURSELF AND YOUR DREAMS.
Join me now so that you can thrive as an online business owner by creating a highly profitable digital product, passive income, and promotion strategy!
Frequently Asked Questions
When does the course start and finish?
The course starts now and never ends! It is a completely self-paced online course - you decide when you start and when you finish.
How long do I have access to the course?
How does lifetime access sound? After enrolling, you have unlimited access to this course for as long as you like - across any and all devices you own.
What if I am unhappy with the course?
We would never want you to be unhappy! You have 14 days to request a refund. In order to receive a refund, you must show that you put in the work and watched the lessons, created and promoted your product, and tried to sale something.
Who is this program for?
This course is for women that are still stuck working 9-to-5, who wish they had the freedom to travel more or spend more time with their family. If you desire the freedom to work online so you can pursue your passions through a business of your own, this program is for you! If you are looking to create a passive income stream that allows you to earn an additional $5K-$10K per month, then this program is your opportunity to create something that you can greatly profit from.
I don't know if I can do what I see other online businesses doing. All of the successful online businesses I follow are extremely active and visible.
This can be you, but at the same time you don't have to worry about doing exactly what you see other successful online businesses doing. There is more than one way to create a successful online business. I'm going to show you exactly how to create irresistible profitable products, how to promote them, and how to grow your online presence for more exposure.
I don't have any clients yet. Can you help me get consistent clients and grow my business?
Yes! 50% of the course is showing you exactly how to market and promote yourself and your product. I'll show you what worked for me and what has worked for others. That said, you have to do the work. I cannot do the heavy lifting for you. But if you are ready to put in the time and effort, I'm extremely confident you will see results when you implement the lessons taught in this course.
I'm not good with technology, will I really be able to figure out how to run my own online business?
That's what I'm here for. I also struggled with the techie aspects of running an online biz. But you can learn from my mistakes so you don't have to learn the hard way like I did. I'm going to give you a get-out-of-tech-jail-free-card so you can head straight to go and keep on going with loads of my tech training!
I am really busy and work a day job. How much time do I need to commit to this program each week?
To get through the course in 90 days and make that first $2K, you will need to commit at least 5-10 hours per week on going through the modules and lessons. However, if you want to get through things faster or maybe go a little slower, the course is self-paced and you can go through as your time allows.